CAPRECY. SAVINGS AS CLEAR AS WATER.
Rapid, efficient, economical, ecological.
CAPRECY, the natural evolution of the CAPCOMBI, is the result of more than 30 years' experience, leading to optimisation of a unique technology allowing for significant water savings and recovery.
Constructed for cleaning sewers and ducts, CAPRECY works quickly, efficiently and economically, recovering the used water for re-use in a continuous cycle. The exclusive integrated Cappellotto Recycling System (CRS) separates the water from the sludge through filters and separators, enabling it to be continuously and immediately reused by the high-pressure pump. CAPRECY uses a 5-stage sludge separation and water recycling system.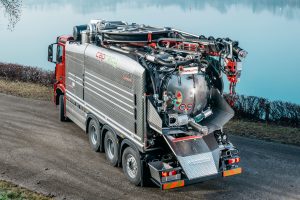 WHY WORK WITH CAPRECY?
Time savings increased as work does not need to stop to refill tanks with water
The transport of dry residues maximises total tank capacity.
The condition of the cleaned pipes is safeguarded (no risk of abrasion).
No interruptions in the work cycle while the water is recycled.
Ability to work with large amounts of water in the pipe.
No down time.
Safeguarding of the pressure pump.
Ideal grease separation.
Completely automatic cleaning of the system.